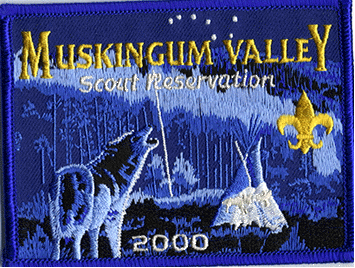 This year Troop 279 again went to Muskingum Valley Scout Reservation in Coschoton, Ohio. We took 4 adults and 7 boys. Everyone seemed to have a great time again this year. The weather was great all week. Not to hot and not to cold. The boys did very well by earning a combined total of 42 merit badges. For the number of boys who went, they beat the average from last year.
Muskingum Valley Scout Reservation has become a special place in our hearts over the last two summers. The staff is great, the food is great, basiclly everything is darn good. Of course there are some things that don't work perfectly, but thats just how it is. The camp director is Rev. Tim Lehman. He has been the director at MVSR for over 20 years. I think he said this year is year 24. The man deserves a huge round of applause. He runs a great camp.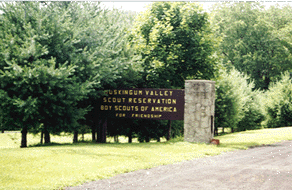 The sign at the Main Gate. It reads "For Friendship". Thats what it means. You make many friends and memories while at MVSR.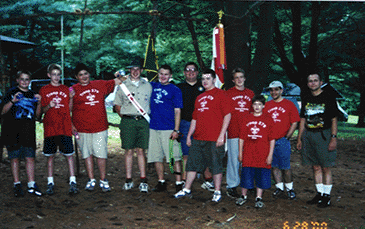 This is the motley crew that went to summer camp this year.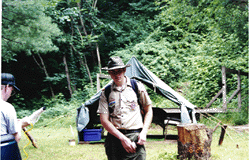 This is Tim Vance. He is our Unit Staff Advisor or USA. We met Tim last year at camp and enjoyed his company so much last year, that we actually requested to have him again this year. He is a very interesting young man with a great amount of knowledge. We again enjoyed his company and wish to see him again next year. If not –good luck Tim and thanks for the great memories.
The boys worked hard all week on their merit badges. They earned a total of 42 merit badges during the week.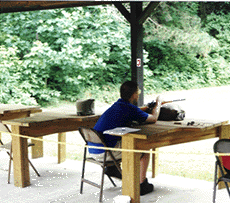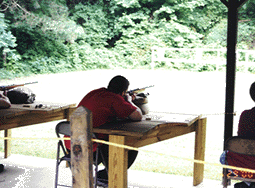 Here are Brook W. and Ian K. working on Rifle Shooting merit badge. Congratulatiosn to these guys on successfully earning their merit badges.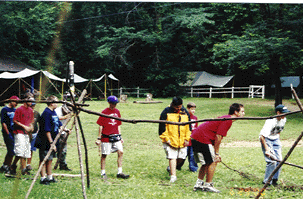 Here are some of the guys working on their Emergency Prep. Merit Badge. I think they were doing emergency signals in this picture.

Here are Charles H. and Chris B. working on their Space Exploration merit badge. This was a new addition to the lineup this year at MVSR. It got great reception. And thanks to Mr. Bruce Blair who taught this badge. He did a great job with the guys.

Family Night 2000 was once again a success. Thank you very much to Diane Kephart who once again this year coordinated the event. Parents from all the boys came this year to check up and spend the evening with their son. Everything went well and finished with a great campfire with all the troops in camp. I hope you enjoy all the pictures.


These are the three extra Adult leaders I took with me this week. I appreciate everything they did, and would never had been able to take these 7 boys for the week to camp without them. These adults do more than I ask of them on a regular basis and I thank you.

I told them I was taking these pictures to show everyone what they did all week, but I'm just being funny. They didn't sleep all week. They did a lot to help me and the boys. Again thank you very much.